Time For A Change
So, last Friday (Good Friday), I decided it was time to take action and go get a new vehicle. I've been thinking about a new vehicle for some time now, and finally had the time to go take care of business.
I went to
North Central Ford
in Richardson, TX and sat down in the Fleet/Commercial Sales department (nice thing about being a member of
Texans Credit Union
). I had already decided that I wanted a Ford Escape. Now, it was just answering the question of what year and color. 2007 or 2008? (Yes, the 2008's are already in and its only April of '07!). Black, Gray, Green, Blue? I finally decided on a light gray/silver 2007 Escape XLT with the 3.0L V6 engine and gray leather interior. I traded in my 1994 F-150 Lightning on the new vehicle. I'll miss the Lightning, but it was time for it and me to part companies. It had been a reliable vehicle for the past 13 years, but it was time.
So anyway, here's my new vehicle!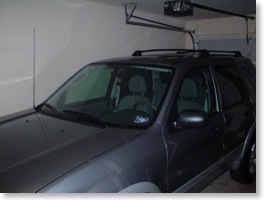 (Picture taken inside its new home in the garage at my townhome...)



My new Escape should serve me well over the next number of years. I tend to keep vehicles for a long time these days...

In other news, my 9-Ball team continues its advance; we've won the past couple of weeks and are in good position to be ready for the upcoming City 9-Ball tournament. The 8-Ball team I'm currently on; "Dammit Jim @ Drinks" is doing well also. We've got our work cut out for us; but we're having some fun.



I've been spending some of my spare time recording my vinyl albums over to my computer, and adding them to my iTunes collection. I purchased a ARTcessories DJ Pre II phono preamp and connected it to my Griffin Technologies iMic USB audio interface. I then connected my Technics SL-Q300 turntable to the preamp (I've had this turntable since the early 1980's and its still one of the best I've ever seen in terms of performance for the cost.) So far, I've done 38 different albums in the past weeks. I've still got the majority of my collection to go; but I can take my time and do a recording every now and then as I want to.